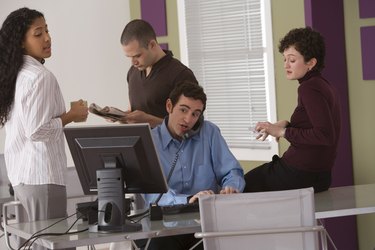 If you have ever tried to get in touch with America Online to get technical support, you are aware of how frustrating the experience can be. The support AOL provides is only available to its paying members, and online support is not available to members with its lowest-priced plans. This can make it difficult to receive technical support for AOL's Web-mail program, website or programs.
Step 1
Visit the help page that AOL has created (see link in Resources). This page will allow you to search for solutions to issues you are having with its software. It includes articles to help you with instant messaging, email, security, cell-phone access, AOL Radio and videos.
Step 2
Click the link at the bottom of the AOL help page that says "Contact Us" if you cannot find the solution to your problem on the AOL help page.
Step 3
Chatting with a live person is possible if you have one of the midpriced or premium membership plans with AOL, including the AOL Basic Dial-Up or the AOL High-Speed Essentials accounts. Both offer 24/7 technical support using the chat link, or through the AOL software using the customer support link in the toolbar. The AOL Dial-Up Advantage also includes this help option, but the free and lower-cost accounts do not give you to access live online customer support.
Step 4
Call an AOL help desk employee at (800) 827-3338. Keep in mind that only paying members of AOL can access this free technical support line. The automated service will request your screen name and confirm that you are a paying member before offering you technical support.
Warning
AOL does not have a published email address for customer service. Your only options are the live help or the phone lines.