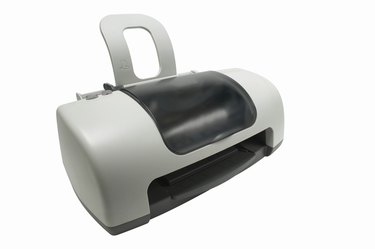 If you have ever needed to send a file from your cell phone or other computer to a non-Bluetooth printer, you probably felt frustration at not being able to get your files printed. Connecting a Bluetooth device to a non-Bluetooth printer is possible, and will save you the cost of sending your files out to your local UPS or FedEx store. Since Bluetooth technology simply sends data from one Bluetooth-enabled device to another, usually within the span of 12 to 15 feet, your files can be printed wirelessly without much trouble or cost.
Step 1
Locate the USB (Universal Serial Bus) port on the printer.
Step 2
Install on your computer the Bluetooth software that came with your Bluetooth adapter. The software will allow your computer and your printer to recognize the Bluetooth adapter you connected to your printer. Turn on the printer's new Bluetooth connection. This can be completed by clicking the printer's icon in your computers' printer menu and selecting the "Properties" menu, or by going to your "Control Panel" menu on your computer and selecting the corresponding Bluetooth icon.
Step 3
Turn on the Bluetooth connection on any other Bluetooth device to allow you the ability to check the printer's Bluetooth functionality. Any cell phone with a Bluetooth capability should be able to locate your printer's name as a new Bluetooth device when both devices are turned on and able to search for other devices.
Step 4
Select the file that you would like to print on your second device, i.e. cell phone or computer. Click the "pair device" icon on your second device so that this second device can be paired to the printer and given the ability to send files for printing to your printer. Send the files to the printer for printing or click "Print Files." This will send the files to the printer and the printer will begin printing the files automatically.
Things You'll Need
Bluetooth cable or Bluetooth USB adapter

Printer with USB port
Tip
Be sure to locate the correct drivers for your new Bluetooth device. This will enable your printer to properly recognize your files that will be sent to it.
Warning
Set up your Bluetooth printer to only allow authorized devices to send files for printing. Allowing your printer to accept all incoming Bluetooth files may inadvertently allow a virus to be sent from an unknown Bluetooth device.