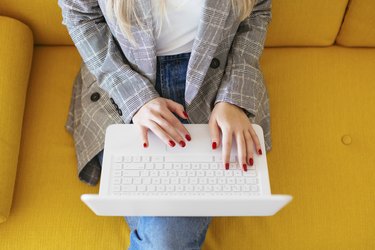 If you've purchased an e-book and tried to add the downloaded ACSM file to your e-book reader, you've no doubt noticed that the file may not actually work. This may be because your e-book reader is incompatible with ACSM files. The Portable Document Format or PDF offers a tempting alternative, considering its nearly-universal compatibility with e-book readers. Converting an ACSM to PDF file legally is quick, easy and free.
Tip
To convert an ACSM file to a PDF file, you'll need to first have Adobe Digital Editions installed on your PC or Mac. You can then use that application to authorize your computer for use with protected documents and download a PDF file you can read on your computer, phone, tablet or e-book reader.
Basics of an ACSM File
The Adobe Content Server Manager or ASCM file isn't actually an e-book file, although its function is strictly limited to e-books. Instead, ACSM files are a form of digital rights management or DRM operated by Adobe to protect and distribute Adobe e-books. For example, if your library offers electronic books to members, the file you download for a book or magazine might actually be an ACSM file.
Compatible readers and Adobe's free desktop software, Adobe Digital Editions, read the file and download a corresponding PDF or EPUB book from Adobe's content servers. These files can then be used on any e-book reading device compatible with EPUB or PDF format.
Since the ACSM file has to be legally acquired and authenticated from Adobe, using this conversion method is completely safe and legal. Be wary of any website that claims to be offer an ACSM converter online. Also avoid any software that claims it can break the encryption and give you access to protected documents you really don't have the authority to view.
Basics of PDF Files
PDF files are actual document files, which store the entire contents of an e-book or other document. This includes font files, page layout and other important document information. Generally, PDFs are well-suited to printing, due to their detailed layouts and print-ready page setup.
Since PDFs are preset however, they may be ill-suited to some e-book reading devices due to screen size, print size and font preferences. While they might be easily legible on a large computer screen or iPad, the reading experience will suffer on most smartphones and smaller tablets. As such, other e-book formats, like EPUB, may be better suited to reading on devices other than a desktop or laptop computer.
Converting an ACSM to PDF
Converting the ACSM file is a fairly straightforward procedure. To convert the file, install Adobe Digital Editions, if you don't already have it on your computer. This should associate the ACSM file format with the program, meaning you can double-click the file from File Explorer to launch the program and begin downloading the PDF edition of the book.
If this is your first time, you'll be prompted to log in using your Adobe ID to verify the purchase. If not, you can right-click the file and select "Open with" followed by Adobe Digital Editions. Once the file download completes, you'll have a PDF version of the book to transfer to your e-book reader or other device.
Circumventing DRM Protection
There are some ways to circumvent the ACSM DRM and convert the file to an unrestricted EPUB or PDF file. While this conversion method is possible, it is also considered a violation of the Digital Millennium Copyright Act and may result in legal consequences. You could end up going to court and/or paying large fines with possible jail time you could otherwise avoid. So, if possible, always use legal means to convert your ACSM files to PDFs.