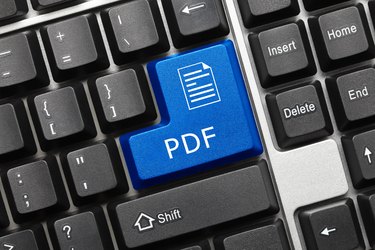 Adobe Pagemaker 7.0 allows its users to create hundreds of kinds of different newsletters, brochures and reports, depending on their business needs. Adobe Pagemaker supports integration of text or graphics from other Adobe programs like Photoshop or Illustrator. Converting your Adobe Pagemaker documents to PDF format requires you to install various components that come standard on your Pagemaker application CD. These add-ons include Acrobat Distiller and Adobe PostScript Printer Driver, which should be installed before you begin. If you do not have these additional components, you may download them from Adobe's download page.
Step 1
Make sure the additional drivers are properly installed in Pagemaker, or download them from Adobe's download page (see Resources). Run through the installation process and open Adobe Pagemaker 7.0.
Step 2
Open your Pagemaker document and click the "File" button at the top of your screen. Select "Adobe PDF" from the "Export" sub-menu. Choose a PDF option from the "Job Name" menu in the pop-up screen.
Step 3
Change any desired preset options from the tabs in the pop-up menu and click "Export." Enter a name for your PDF document and choose a save location on your computer's hard drive.
Step 4
Select "View PDF" if you want Pagemaker to automatically open your document once saving is complete, and click "Save."