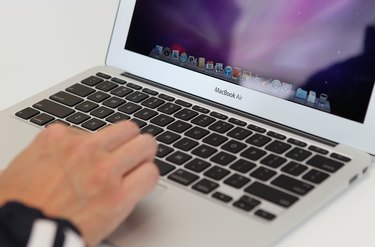 In early versions of Mac OS X, Address Book archives were stored as ABBU files, a format unique to Apple computers and practically useless anywhere else. Since the Contacts app in OS X Mavericks -- which replaced the Address Book -- supports both ABBU and CSV formats, you can use the Contacts app to quickly convert an Address Book backup to CSV format.
Step 1
Launch the Contacts app on your Mac.
Step 2
Go to the "File" menu at the top of the screen and select the "Import" command.
Step 3
Highlight the ABBU file you want to convert and click "Open" to add it to your Address Book data.
Step 4
Click the "File" menu, select "Export," then "CSV." Contacts creates a new archive file in CSV format. Use this file in any app on a Mac or Windows PC to import the address book data.
Tip
Some users have reported issues trying to import an ABBU file into the Contacts app when using iCloud. If this happens, turn off Wi-Fi on the Mac and try importing the ABBU file again.
If you don't want to combine your current contacts in the Contacts app with the ABBU file, create a CSV archive first and delete all of your contacts. After you convert the ABBU file to CSV, delete all of those contacts and then import the CSV file to restore your original contacts.