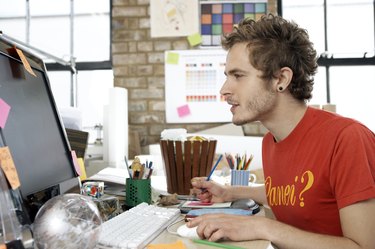 Both IMG and ISO files are disk images. The files contain not only the data on a disk, but information on how it is stored, making it possible for you to easily burn a disk copy or run the file directly from your hard drive as if it were a CD or DVD. There are plenty of free programs that can read both file types, which cuts out the conversion process. One of these programs is UltraISO, which, in addition to reading many different types of image files, can convert ISO to IMG.
Step 1
Download and install the free trial version of UltraISO. Run the program.
Step 3
Browse for and select an input file, the ISO you wish to convert.
Step 4
Choose a destination folder for the converted file. (The default option is the same folder as your original file.)
Step 5
Choose "Clone CD (IMG/CCD/SUB)" from the "Output Format" list. Click "Convert" to convert your file.
Tip
The free trial version of UltraISO only allows you to save and edit files 300 MB or less. However, you can still convert CD-sized disk image files (about 700 MB) with no limitations. Paying for the program removes the file size limit and allows you to get free software updates and technical support, but is not necessary.