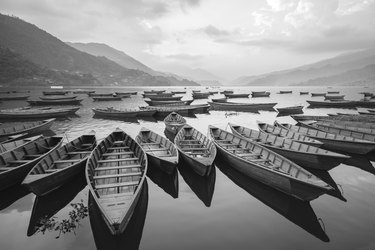 Microsoft Windows offers a free Photo Gallery download that enables you to change a JPEG image from color to black and white. The Gallery features a variety of monochrome effects to help you select the right tonal range to enhance your image. Photo Gallery also saves the untouched file in your original photos folder for quick reversion from the saved black and white file to the original color image.
Install Photo Gallery
Download the Photo Gallery program (see link in Resources) and install any updates. Open the program and connect your camera to your PC with the interface cable. Click "Import" in the New group on the Home tab and follow the prompts to import your JPEG files. Double-click the thumbnail from your gallery to enlarge it in a window. As an alternative, right-click a thumbnail, such as an older file from the Pictures Library, mouse over "Open With" and then select "Photo Gallery" to display this image in the window.
Enhance the Image
Click the "Edit" tab on the ribbon, click the image and then point over the "Black and White" thumbnail in the Effects group to preview the conversion. Other Effects options include Yellow Filter, Orange Filter and Red Filter. For example, a red filter makes a sky shot more dramatic with a darker sky and contrasting clouds. Click the preferred filter option and then click "Close File" to save the effect. You can also select "Exposure" options in the Adjustments group to adjust the range of light to dark, if necessary. Restore the original colors by clicking the "Revert to Original" arrow button on the Edit tab and then select "Revert to original" to undo the black and white effect and display the original JPEG image.
Online Photo Editors
As alternatives, online editors with black and white options include LunaPic's Filters menu, Fotor's Color Splash feature and PicMonkey's Effects tools. These editors can convert images to monochrome with just one or two clicks. (See links in Resources.)