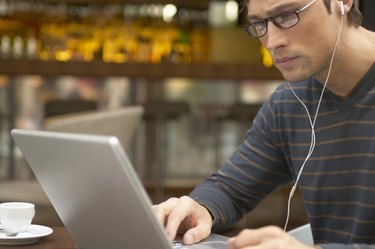 M4as are audio files that can be created when you rip files located on an audio CD onto your computer using the iTunes software. While these files will play on your iPod and in the iTunes software, they may not be compatible with your portable MP3 or other media player. The iTunes software can also be used to convert M4a files that are saved on your computer to MP3s, letting you put the songs on an MP3 player or MP3 CD.
Step 2
Click "File" and open "Add Folder to Library."
Step 3
Select the folder where the M4a files are saved and then click "Open" to add the M4as to iTunes.
Step 4
Click "Edit" and open "Preferences."
Step 5
Choose the "Import Settings" option inside the window to open a second window.
Step 6
Click on the "Import Using" drop box inside of the second window and select "MP3 Encoder." After you have done this, click "OK" found inside of both open windows to save the settings.
Step 7
Highlight "Music" in the "Library" list on the left side of iTunes.
Step 8
Choose the album with the M4a songs you're converting. The songs will then be listed.
Step 9
Select every M4a you're converting and then click the "Advanced" menu.
Step 10
Choose "Create MP3 Version" to save the MP3 audio files in the iTunes folder on your computer.