While Microsoft Excel 2013 does have an option to open and convert PDF spreadsheets, it's an extremely messy affair, invariably resulting in rows of gibberish. Convert the PDF to Word first. This route is just a little messy, but it's nothing compared to the train wreck you get when you try to convert a PDF directly into Excel.
Converting a PDF to Excel
Step 1: Open the PDF in Word
Right-click the PDF in File Explorer, select Open With and click Word. After Word launches, a dialog box opens asking you to confirm that you're converting the file to an editable Word document. Click OK.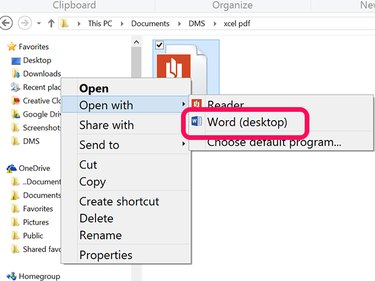 Step 2: Copy and Paste to Excel
Press Ctrl-A, then Ctrl-C to copy all of the data in the Word document. Open a new, blank Excel workbook and click cell A1. Press Ctrl-V to paste the data into Excel.
Step 3: Adjust the Cell Sizes
Press Ctrl-A to select the entire worksheet so you can resize all of the columns at once. While the worksheet is all gray, drag the line between any two column letters to the right until you can see all of the data. Resize the rows if needed by dragging a line between two row numbers.
Step 4: Adjust the Formatting
When converting a PDF to Excel, it's common that the formatting renders poorly. For example, some cells may be left-aligned, while others are center-aligned. Highlight the cells that need to be changed, click the Home menu and change the alignment using the icons in the Ribbon. Make any other changes as needed, such as the font size.
Step 5: Proofread the Data
Even if the data in Excel looks okay, there may be problems you don't see until you compare the spreadsheet with the original PDF document. Drag the original PDF onto a Web browser window to open it, and then resize the windows to compare them side-by-side or up-and-down. Pay particularly close attention to any data that used formulas. In our example, all of the data came out fine, except the row of totals and averages, which were merged into a single cell. To fix data problems, you can retype the data into the cells or use Excel formulas.
Embedding a PDF as an Object
If you don't really need to convert all of the data in a PDF into a worksheet, you can embed it as an object in that worksheet. To do this, click the Insert menu, select Text and then Object. Click the Create From File tab and then select the PDF. Whenever you click on the embedded thumbnail, the PDF opens in your default PDF viewer.