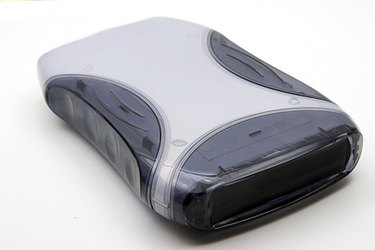 Final Cut Pro is video editing software that allows users to create commercials, movies, music videos and other types of videos. It combines audio and video and allows for special effects, editing and saving the completed project in accessible formats. Purchasers of software programs, including Final Cut Pro, sometimes obtain them as downloads rather than CDs. Thus they need to be able to move the software from one computer to another.
Step 1
Acquire an external hard drive. Check the connections on your computer first to make sure you have USB connectors. If you are not sure, look in the manual, call the manufacturer of your computer or ask a technician.
Step 2
Power up the hard drive and the computer that has the Final Cut Pro software installed. Create a connection between them via a USB cable. The flat part of the cable will go into the computer and the long square part into the external hard drive. The computer will automatically detect the drive. Choose the "Open Folder" option from the window that pops up on the screen.
Step 3
Right-click on the Final Cut Pro software folder in the computer and click "Copy." Go back to the opened folder on your hard drive, right-click inside it and click "Paste." This will copy the software onto the hard drive.
Step 4
Unplug the connection between the computer and the hard drive and plug the drive in the same manner into the computer to which you want to move the file. Once it detects the drive, choose the "Open Folder" option and copy Final Cut Pro in the same manner to the new computer.