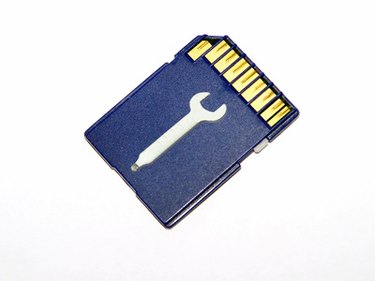 The Garmin BlueChart G2 Vision Maps is an extras package of maps available for your Garmin satellite navigation system. The Garmin BlueChart G2 maps are distributed on a SecureDigital (SD) flash memory card. These are the same types of memory cards used by many digital cameras. If you want to copy these maps so that you have backup copies or if you want to edit them on your computer, you need a memory card reader. Most laptops have some memory card slots, so check whether yours has an SD slot.
Step 1
Connect your memory card reader to your computer via USB. These devices are all plug and play, so you need to connect it to make it work.
Step 2
Slot the Garmin maps SD card into the card reader, wait a few moments for your computer to recognize that a new medium has been inserted.
Step 3
Click "Start" and "Computer." Double-click the Garmin drive.
Step 4
Press "Ctrl" and "A" to select all the files. Press "Ctrl" and "C" to copy the maps. Navigate on your computer to where you want to copy them and press "Ctrl" and "V."