Creating a bootable USB flash drive is a great way to carry around a favorite operating system. Whether to cut down the time it takes to set up multiple computers or to just use a small operating system to fix a problem the native software on a computer cannot handle, bootable USB flash drives are convenient. UNetbootin is a simple program available free online that can use the ISO image of an operating system to create a bootable USB flash drive.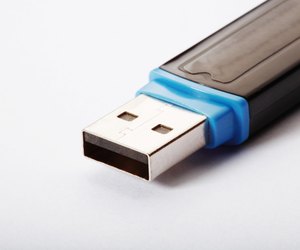 credit: Visage/Stockbyte/Getty Images
Step
Restart the computer and open the BIOS settings. Each motherboard manufacturer has its own BIOS menu, so watch for the key to open the BIOS settings. Navigate to the "Boot" menu and set boot priority to USB, then select the option to save and exit the BIOS settings.
Step
Open a web browser and visit the Ubuntu website (see References). Click "Download Ubuntu," follow the onscreen instructions for setting location and then click "Begin Download." Ubuntu is available free online as an ISO image and thus will be used as the example for this article.
Step
Visit the page for UNetbootin at SourceForge.net (see References). Click the "Download" button for Windows. UNetbootin is small and does not have to be installed.
Step
Plug in a USB flash drive and copy all files from it. The USB flash drive must be formatted in preparation for the ISO.
Step
Open "Computer" (or "My Computer"), right-click the USB drive and then click "Format." Set the file system to FAT32 if not already set, select "Quick Format" under "Format Options" and then click "Start." Click "OK" in the confirmation window. Close the Format window, then continue to Step 6 when the format is complete and Ubuntu has finished downloading.
Step
Start up the UNetbootin program from its downloaded file. Click the dot next to Diskimage to set UNetbootin for using ISO images. Leave the next button on the line set to ISO, then click the ellipsis (...) button at the end of the line. Locate and select the Ubuntu ISO image, then click "Open." Make sure that "Type" is set to "USB" and "Drive" is set to the USB flash drive's letter. Click "OK," then click "Reboot Now" when the process is complete. The computer will boot into the Ubuntu operating system from the USB flash drive.