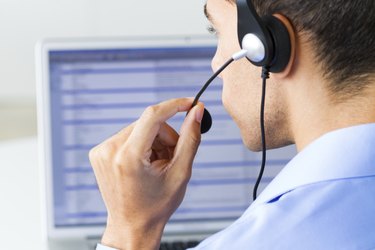 Microsoft's templates enable you to create a call log to track your communications on an Excel workbook. These templates include sortable tables with categories such as names, phone numbers and call times to keep your data organized for onscreen viewing and printouts. Customize a template with the ribbon tools to make the content meaningful. For example, adapt a sales log to a membership log and then style it for readability. Update a call log on one worksheet and a contact list on another worksheet to help you access more details, such as websites and addresses, to organize your network data.
Step 1
Click the "File" tab on the command ribbon and then select "New" to open the page of template thumbnails.
Step 2
Enter "Call log" (without quotations) in the "Search for Online Templates" field and then press "Enter" to display the results.
Step 3
Select the "Sales Call Log and Organizer" thumbnail to preview the enlargement and the template description. Click "Create" or "Download" to copy this template to a new Excel workbook.
Step 4
Click a lower sheet tab, such as "Sales Call Log" or "Client Contact Info," to display this worksheet.
Step 5
Customize the Excel table design by selecting a cell or a range of cells, then click the "Design" tab on the Table Tools ribbon. Click the "More" button on the Styles gallery to open the Table Styles chart and display thumbnails listed Custom, Light and Medium sections. Point over a thumbnail to preview this style's effect on the table. Select a thumbnail, such as "Table Style Light 1," to update the table design. Continue styling a cell, a range of cells or the entire worksheet with the look you want.
Step 6
Enter your contacts' data on the Client Contact Info worksheet. Include Secondary Phone details as an alternate number.
Step 7
Compile the call details on the Sales Call Log worksheet. Update the Checklist worksheet and review the applicable items.
Step 8
Press "Ctrl-S" to save this workbook on the Save As dialog box. Rename the file and select a file type, such as "Excel Workbook (*.xlsx)," in the Save As Type field. Click "Save."