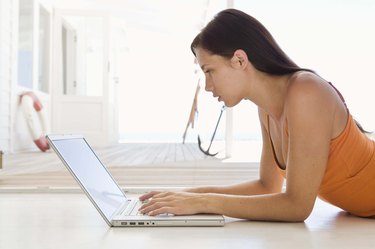 Free ID card creation is best done through a program or online service with ready-made templates and/or customized card-making options. After finalizing the layout and design, you can readily print the ID card using your available home or office printing resources, or you can request a supplier to have the IDs printed at your agreed-upon cost.
Some suppliers can package the design creation and the actual card production. However, if you just intend to create simple cards without incurring third-party costs, it is still best to produce them using just your available resources.
Step 1
Decide whether you want to make the ID card entirely on your own or you want to get a supplier to produce the final output based on your personal layout and design. Although making the ID card by yourself is a more practical choice, contracting with a separate company to do the printing and releasing is beneficial if you have demands for special material, design and function for your ID cards (examples may include features like magnetic strips, barcode printing or barcode screening).
If you want to make the cards for free, you may have to settle to specific limitations. You may also check out some suppliers who may possibly provide you free ID card printing services for a certain number of cards during promotional offers and first-time client offers.
Step 2
Download a free software program or log in at an online service with free ID card-making features. These options allow you to make the layout and design of your ID card at no cost. Examples of programs and services readily available to the general public include Easy Card Creator and EasyIDCard. Take note that many of these free resources require registering an account similar to creating a new email.
Step 3
Choose a design from the template provided or you can customize your design accordingly. Most options offer features where you can add your own effects, choose whether you want a horizontal or vertical card, maximize available themes and categories for various industries like medical, press or corporate, among other applicable menus that can help improve your layout and design.
Step 4
Complete all texts to be placed on the card. Generally, templates and wizards are available for convenient placement of the required information in software programs and online services. Make sure you proofread all details that should appear on the ID card.
Step 5
Upload the ID photo that should appear on the card. You may also need to upload other images like a logo or any other element you want to include in the ID card design.
Step 6
Save and/or export the final copy of your ID card design.
Step 7
Configure the number of ID cards you intend to print, then prepare your printer and printing materials. If you intend to have the ID cards printed outside, send a copy of the exact design and your specifications to your supplier. You can go to your supplier personally or mail or email all requirements for your order. Many freeware programs and online services also accept printing orders, but if not under a promo, this may cost you.
Tip
To avoid wasting printing resources, always double-check the layout, design, photo and all information before finally printing your ID card or sending it to the supplier. It is always ideal to first double-check the information in the ID card from the people concerned: the complete name to appear on each card and other significant details to include like contact details, designation, company, club or organization artwork, logo or any personal or professional marks and the company, school or organization name.
Although image-editing programs like Adobe Photoshop or Ulead can also be used for making the layout and design of your typical ID card, this generally requires more time and effort, especially when finalizing measurements for the layout.
Warning
When using a third party for your printing job, whether you are expecting free production of your ID cards or you are spending for it in discounted or full rates, make sure you have read the contract completely to avoid hassles when having to request for revisions or if there would be any other concerns that may arise due to instances of machine or human error.
Some freeware programs have limited features and small file size provisions for uploaded images.