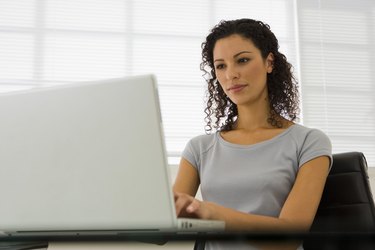 If you need to an inexpensive birthday card, try printing one using Microsoft Word. The program allows you to make customize printed documents efficiently with easy-to-use tools. Sometimes, you cannot find the right card to express your feelings, but Microsoft Word allows you to type in your own words--even poems. The program allows you to customize a birthday card by adding the recipient's name and a picture. Make someone's birthday truly special with a personalized card that comes from the heart.
Step 1
Open a new document in Microsoft Word. From the "File Menu" select "New." Under "Microsoft Office Online Templates," select "Greeting Cards."
Step 2
Choose "Occasions and Events" under the "Greeting Cards" category. Pick a birthday card template to use. Once you select a template, choose "Download," located in the lower right corner of the box.
Step 3
Customize the birthday card by replacing the text. You can change the text to your own personal greeting and you may want to consider adding the birthday honoree's name. Choose the "Home" tab to change the font, text size, font color and text alignment.
Step 4
Change the birthday card layout. You can change the background color or size of an object. Double click on an object, such as the card background, to change the color or pattern. The options available to you will appear under the "Format" tab. If you want to change the size of an object, click once on the clip art and drag any of the small white boxes down to make the object smaller or up to make it larger.
Step 5
Add clip art to the birthday card. If you do not want to use the clip art provided, simple select the object and hit the "Delete" button on your keyboard. To add clip art, click on the "Insert" tab. If you select "Picture," you will need to locate the file on your computer's hard drive. Microsoft Office provides free clip art if you select the "Clip Art" option. Once you select this option, use the search feature to type in keywords to find the right clip art.
Step 6
Select "Print" from the file menu to print out the birthday card. Try using cardstock paper to make the card feel heavy. Once the birthday card prints, fold the card as needed. If you need an envelope for your personalized birthday card, Microsoft Office also allows you to print custom envelopes.