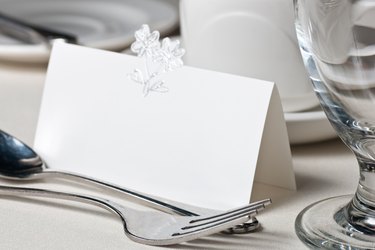 Creating customized place cards can be time consuming to make by hand and costly to purchase from printing stores and professional calligraphers. Luckily, there is a simple way to create place cards for any event by using your personal computer and Microsoft Word. Word comes pre-loaded with templates that allow you to create professional documents, such as resumes or memos. They also allow you to create wedding invitations or place cards for many kinds of events.
Step 1
Open Microsoft Word and click on the "File" drop down menu and then click on "New." A dialog box will pop-up to the right of your screen. Find the section labeled "Templates."
Step 2
Click on "Templates on Office Online" to search for and download free templates. Once you've clicked on that, it will open your default web browser.
Step 3
Click the text box on the top left-hand corner of the website and type in "place card." Click the search button. Microsoft Office Online will automatically search for the top 100 results and display 25 at a time. It will also show image previews of the place cards along with their titles.
Step 4
Click on the place card template you'd like to use, click "Download" and agree to the Microsoft Service Agreement by clicking "Accept."
Step 5
Open the template once it's finished downloading. You can freely customize the templates by changing the table names, adding in guest names and changing images if you'd like.