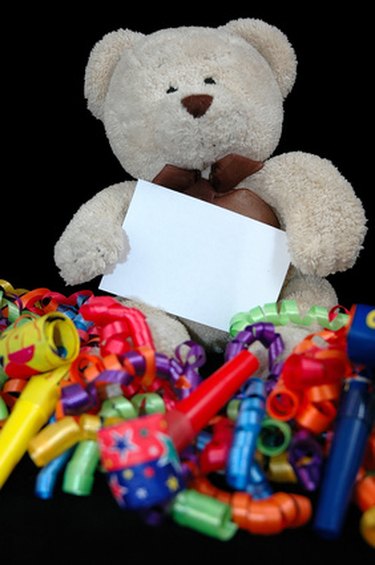 There is something special about invitations you make yourself. Microsoft Word comes with many invitation card templates that you can utilize to make your own invitation cards for weddings, birthdays or business meetings. You can use a Microsoft Word template as it is or you can modify the colors, pictures and words to make the invitation your very own.
Step 1
Open Microsoft Word and click the Office button, which is the pizza-looking button located in the far left corner of Word. Select "New" from the top of the menu. This opens the New Document window. On the far left task pane, select "Invitations." The middle task pane changes to the type of invitation templates that are available both on your computer and from Microsoft's Office Online website, including business, wedding and generic invitations.
Step 2
Click "Party Invitations" to see a list of party invitation card thumbnails. You can scroll through to see each party invitation available. When you click on any invitation card thumbnail, the right task pane changes so you can see who provided the invitation, how large the file is, and how long it takes to download. You can also see what rating other users have given the invitation.
Step 3
Select the blue and purple Party Invitation thumbnail. This template is made by Microsoft, is 30 kilobytes, and has a strong rating of four stars. Click "Download" to open the party invitation template on your computer. This invitation card template contains two cards to customize.
Step 4
Scroll to Page 2 and click in the Event Description field to fill out your personal information. You can press your Tab key to go to the next field or you can click in the date field to fill out information for the date of your event. Fill out all of the invitation information for your event on both cards.
Step 5
Save your invitation by clicking on the Office button and then clicking "Save." Type in a name for your party invitation and click "OK."
Step 6
Print your party invitation by clicking on the Office button and clicking "Print." You will want your party invitation card to print on one piece of paper. Many printers do not have the capabilities to automatically print on both sides of a single sheet of paper (called duplex printing). To have Word duplex manually, click on the Manual Duplex check box located in your Print dialog box under the Find Printer button on the right side. This will tell the printer that you want to print your invitations on one piece of paper. Click "OK." In manual duplex printing, once the page prints, you will need to put the same page in your printer again so it can print to the other side. This requires you to reorient the page so it prints correctly on the other side, which may take some practice.
Step 7
Cut your invitations apart with scissors once they are printed, then fold them.