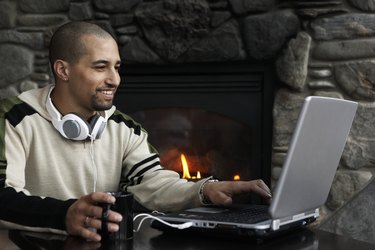 Microsoft is one of the biggest computer companies in the world and has products which encompass almost every aspect of computers. Like many other computer companies, Microsoft offers free email addresses which can be found at their MSN.com website. The MSN website (standing for Microsoft Network) offers email addresses with the hotmail.com and live.com domain names for free. If you need a quick email address for something, it is easy to sign up and get start emailing in no time.
Step 1
Open your Internet Browser and go to msn.com.
Step 2
Click on the "Hotmail" link on the top left hand side of the screen. This will take you to the Windows Live homepage. Click on the "Sign Up" button on the left hand side of the screen to begin the new email process.
Step 3
Type your desired Windows Live ID in the space provided and select either "@hotmail.com" or "@live.com" depending on your preference. Click on "Check Availability" to determine if the ID is available. If it is, continue with the sign up. If not, keep trying ID's until you find one which is available.
Step 4
Fill in the rest of the form with your account password, name, country, state, zip code, gender, and birth year. When finished, click the "I accept" button at the bottom.
Step 5
Start emailing by clicking on the "New" link at the top of the screen.