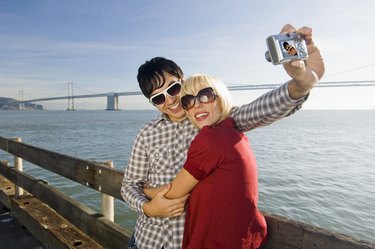 IPhoto, Apple's digital image software, comes preinstalled on new Apple computers. This software enables editing, sharing and manipulating images, including the ability to make a photo collage when sending an email. IPhoto also ensures that the email isn't too large to send or receive, and provides the ability to send high-resolution files for the recipient to download. The email collages are limited to no more than 10 photos per collage.
Step 1
Open iPhoto by clicking its icon from the dock, or selecting it from the Applications list.
Step 2
Select photos for the collage one at a time or, if the pictures are already in an iPhoto event, select more than one photo by dragging your cursor over the displayed photos from the event.
Step 3
Click "Share," and then "Email." Select the template from the right window that displays the eight template options. Add text to the template, such as the announcement details or trip dates. Zoom in on a picture by clicking the photo and using the slider, or rearrange the photos by dragging and dropping them in the collage.
Step 4
Choose "Email" from the list of options in the lower-right corner. Select your email ID.
Step 5
Select "Attach photos to message" to include high-resolution images that the recipient can download.
Step 6
Tip
To re-send a collage, view a photo in iPhoto. Click "Info" to view the collage in which it was sent and then re-send.