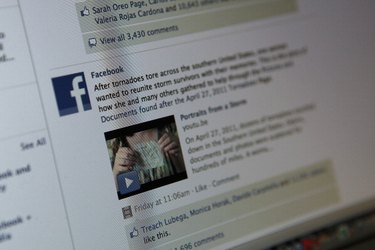 Aside from standard Facebook profiles, users can create fan pages dedicated to a specific cause, such as the promotion of a business, a service or a public figure. A political page helps target interested groups as people can interact about the topic at hand. This specialized page also presents statistical data on active groups and demographics, including age, gender and location information. The process involves creating a political page and ultimately associating it with your standard Facebook profile.
Step 1
Go to Facebook's official homepage at facebook.com. Click to select "Create a Page" from the links displayed in the lower portion of the screen.
Step 2
Click the "Artist, Band or Public Figure" template.
Step 3
Click the subsequent drop-down menu and select "Politician."
Step 4
Place a check mark on the "I Agree to Facebook Pages Terms" box and then click "Get Started."
Step 5
Type the security phrase displayed and click "Submit." If you have difficulties reading the phrase click "Try Different Words" or select to use an audio-based phrase.
Step 6
Select whether you already have an existing Facebook account. If so, select "I Already Have a Facebook Account," type your existing credentials and click "Login." Otherwise, select "I Do Not Have a Facebook Account." Type all necessary information, such as a valid email address and a password.
Step 7
Click "Sign Up Now" to submit all information. Log on to the inbox pertaining to the email address you provided. Launch the confirmation email sent from Facebook and then click the link inside to complete the political page's setup.