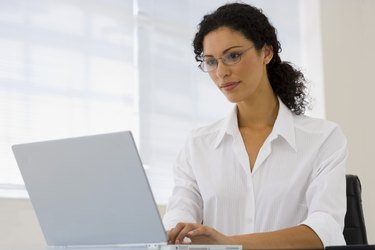 In contrast to a formal written signature, an email signature may contain your business/personal information and even a photo. Whether or not you have a personal business, using a signature is highly recommended. This is not only a sign of professionalism, but it also makes the email appear more personal. The benefit of creating a signature on your computer is that you can save it and use it over again in future emails.
Step 1
Go to the Microsoft Outlook website and download the free trial version if you do not have it. Install the program and enter the product key to activate the software.
Step 2
Create a new message. Click "New > New Message" on the top-right corner. Select "Signature > Signatures" from the email toolbar.
Step 3
Create a new signature. Click "New" under "Select signature to edit." Type a name for the signature and click "OK." Choose an email account if you have one set up. Add an email account by clicking "Tools > Account Settings."
Step 4
Customize the signature. Enter your information into the space provided and click "Save." Add a picture by clicking the mountain icon and link by clicking the chain icon. Click "OK" to close out of the window.
Step 5
Insert the signature. Create a new email message and select "Signature > Name of your signature." The signature will appear in the message window.
Tip
Copy and paste the signature into your webmail service providers. You can always edit the signature by clicking "Signature > Signatures."