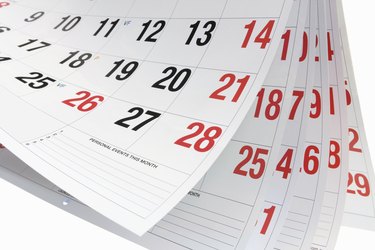 Microsoft created the Employee Absence Tracker to enable you to compile and update your staff's vacation times on an Excel worksheet. Time-saving tables list your staff, dates and hours in sortable columns for quick analysis. The ribbon's PivotTable Tools and Timeline Tools help you style the data in a visually interesting way, such as an accent color to highlight a specific time period. Your customized tracker saved as a template can jump start a new workbook tailored to your company's team.
Step 1
Click the "File" tab on the Excel command ribbon, select "New" to open the page of template thumbnails and then enter "Employee absence tracker" in the "Search for online templates" field. Press "Enter" to display the search results.
Step 2
Select the "Employee Absence Tracker" thumbnail to preview this template's enlarged image and description. Click "Create" to copy this template to a workbook.
Step 3
Customize this worksheet with the preferred style. For example, click the lower "Data" sheet tab to display the Employee Absence Data worksheet and click the table to display the Table Tools ribbon with the Design tab. Select the cells you want to style. Click the "Design" tab and then click the "More" button in the Table Styles group to display the chart of styles, such as color options in the Light, Medium and Dark sections. Select the preferred color to update the data table.
Step 4
Enter your company data in the fields on the Total worksheet, and the staff data in the table on the Data worksheet. Right-click the PivotTable on the Total worksheet and then select "Refresh" to update the PivotTable with the linked Data worksheet.
Step 5
Press "Ctrl-S" to save this workbook. If you prefer to save a version as a template, select "Excel Template (*.xltx)" in the Save As Type field on the Save As dialog box.