Creating an electronic signature on a Mac is simple. Using the Mac's Mail application allows you to automatically create and insert your personalized signature for all your mail recipients to view. You may create different electronic signatures for different mailing purposes, including job-related mails, personal or family-related. Your signature could include only your name or additional information, such as contact information, slogans, phrases or a link to a personal web page.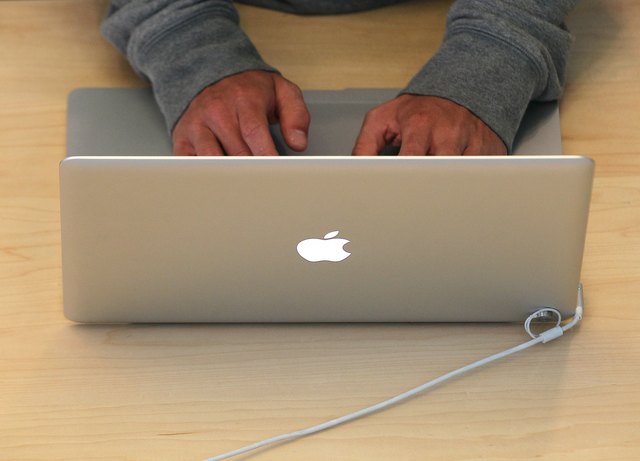 credit: Justin Sullivan/Getty Images News/Getty Images
Step
Launch the Mail application. It is usually located on you Dock menu. If you don't see it there, click on ''Finder'' and locate it under the list of applications in the ''Applications'' folder.
Step
Click on ''Preferences'' under the ''Mail'' menu on the upper-left corner. A window will open displaying a series of tabs on the top section, including ''General," ''Accounts," ''RSS," ''Junk Mail," ''Composing," ''Signatures'' and more.
Step
Click on the ''Signatures'' tab. You will see three columns in this section. The first column shows you the list of email accounts you use with Mail. The second column shows the lists of signatures that correspond to each account. The third column displays the content of each electronic signature for you to edit at any time.
Step
Click on the ''+'' (add) sign under the second column to add a new electronic signature. The signature's default name is ''Signature #1." Change the title if you wish.
Step
Write the content you desire for your electronic signature on the provided space in the third column.
Step
Click and drag ''Signature #1'' from the second column to the email account you wish to assign it to.
Step
Follow the same procedure to create more electronic signatures. (Signature #2, Signature #3, etc) You may assign the same electronic signature to multiple accounts with the click-and-drag process. You may also assign multiple signatures to one account, although only one will display at a time.
Step
To assign different electronic signatures for one email account, select the account for this action. Select the order in which you wish these to appear by clicking on the ''Choose Signature'' drop-down menu and choosing from: ''In Sequential Order," ''At Random," ''Signature #1," ''Signature #2'' or ''None''
Step
To remove an electronic signature from one of your accounts, simply select the email account you wish to edit. Click on the electronic signature you wish to remove from this account and then click the ''–'' (minus) sign.
Step
Click on the ''Composing'' tab from the ''Preferences'' menu. Under the ''Addressing'' middle section, locate the ''Send new mail from'' drop-down menu. Select the email account you wish to use to compose a new mail from this drop-down menu. The electronic signatures corresponding to each account will display accordingly.