Log-in pages are used in websites as initial screens to get access to confidential information. Log-in pages require at minimum a username and password. Sometimes you are allowed to select an option to save your log-in information for future use, but it's best not recommended to do this unless you're on a private computer. For Web developers, it's fairly simple to create the HTML for a log-in page. The real work is on the back-end in verifying the log-in credentials. This guide will help you create a HTML log-in page for your website needs.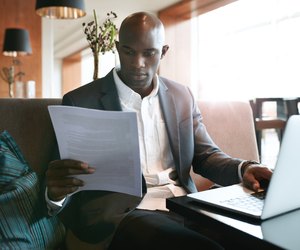 credit: Jacob Ammentorp Lund/iStock/Getty Images
Step
Open a text editor and create an HTML file. Dreamweaver is the most popular program to use for Web development, but you can also use free programs, such as TextEdit (on Mac) or Notepad (on Windows).
Step
Create an HTML form. Between the

and tags you'll need to type in; these are HTML form tags. In the starting form tag, you'll need an action, method, and enctype (encryption type). For action type in where the form will process, the method value will be "get" or "post", the normal enctype is "multipart/form-data," but you can also use "text/plain." The "text/plain" value involves no formatting when submitted. Your final starting form tag will look something like this:

Save your code as a .html file when complete.