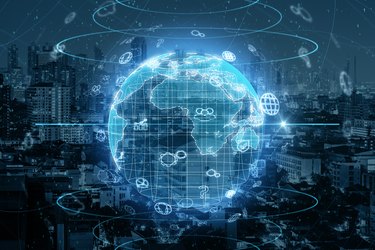 BT Homehub is the previous name assigned to what is now the BT SmartHub family of wireless routers modems designed exclusively for use with BT's product lineup. When BT Homehub was first introduced, it was designed to work in conjunction with the BT Fusion service. BT Fusion was discontinued in 2009 following the introduction of cheaper alternatives to its communication protocols, namely services such as Skype.
For users of the BT SmartHub system, accessing the system and administrative settings embedded in this hardware can be accomplished relatively easily. You can follow a series of simple steps to open the Hub Manager and begin customizing your administrative protocols.
Exploring the Basics of BT Hub
Today's BT Hub is designed to act primarily as a wireless router for enabling wireless internet connectivity. The HubManager acts as the primary interface through which BT customers can modify all of the details and operational logistics of their BT Hub. Because of this, it is critical for all customers to be aware of the BT router login procedures used to access this hardware.
The Hub Manager can be accessed using one of two methods. From your internet browser, you can navigate to https://bthomehub.home, or you can direct input the IP address 192.168.1.254. Either of these options will point your browser directly to the Hub Manager web portal, at which point you are ready to begin tweaking all of the details related to your setup.
Getting Started With Your Login
After arriving at the BT Hub for the first time, you will be required to set a password for your system. This is a relatively straightforward process that can be accomplished by following the on-screen instructions. You cannot bypass this particular step of the process, as you will be unable to access any elements of the BT Hub service without your personal password. Once your password has been established, you can log directly into the web portal and explore the interface provided.
Your Administrator Options at bthomehub.home
When first logging in to the web portal, you may be somewhat surprised by the number of options available to you. From the home screen, you will likely have the ability to navigate directly to a variety of tools and information displays. These include information relating to your current wireless network status, a report on the specific devices that are currently connected to your wireless router, a performance evaluator which will allow you to test the strength of your connection, as well as a gateway to access both the 'Smart Setup' feature and the 'Advanced Settings' portal.
In reality, you will likely never need to use many of the tools found within this window for a standard web browning experience. However, in the event that you need to troubleshoot your system for any reason, it is this portal which will allow both you and members of BT's service team to repair any issues that may have arisen. With that in mind, understanding how to effectively navigate this portal is of primary importance for all BT users, regardless of their current activity.
If, for wherever reason, you are unable to access your BT Hub, you should contact members of BT's service team at your convenience to remedy this particular issue.