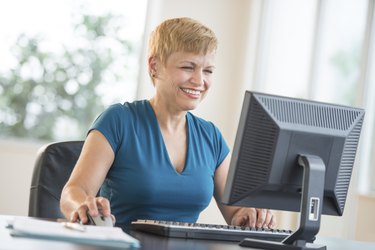 The key to obtaining accurate reports in Access is to first ensure that the data is entered correctly. People who are unfamiliar with the Access interface may feel intimidated, which can lead to input mistakes and inconsistencies. Access 2013 gives you the ability to create forms so you can make a custom input form that is user-friendly, resulting in fewer errors. Using the Form tool makes creation and use of your form simple and quick.
Step 1
Start Access and open your database. Double-click the table for which you need the form in the navigation pane to select it.
Step 2
Select the "Create" tab and click "Form" in the Forms group. A basic form opens in Layout view.
Step 3
Resize any text box by pointing to any border or corner of the box until the cursor becomes a double arrow. Drag the text box to the appropriate size.
Step 4
Rearrange forms as needed by dragging and dropping fields and text boxes to your desired location.
Step 5
Customize the appearance of the form. Select the "Format" tab under Form Layout Tools. Click on the form where there are no fields or text boxes to select it. Click "Background Fill" in the Font section and choose a color to apply to the form. You can also shade individual fields or text boxes and change the font.
Step 6
Save the form by clicking the "Save" button above the File tab or pressing "Ctrl-S" and entering a name for the form.