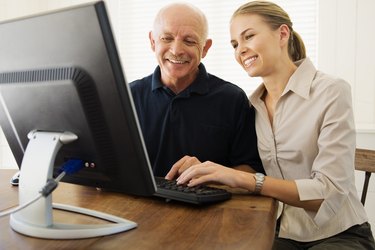 Microsoft Access is a database software application that allows you to create forms. These forms pull information from the database. One option for information retrieval is the use of an Access query. This query is implemented in the properties for an Access form. Once the form is created, you can add or edit the query used to retrieve the information. You can also edit the Access query directly in the database, and the form will display the new information.
Step 1
Open the database by double-clicking the Access file. This loads the database and the associated forms you want to edit.
Step 2
Click the "Forms" icon from the Access main menu. This opens a window that displays a list of forms set up for the database. Right-click the form you want to edit and select "Design View."
Step 3
Click the "Data" tab in the properties window on the right side of the Access window. Then scroll down and find the property setting labeled "Record Source."
Step 4
Click the arrow button. A drop-down list appears with all the queries programmed into the database. Select the query you want to add to the form. You can also type the name of the query in the drop-down list text area.
Step 5
Click the "Save" button to complete the configuration changes. The next time you run the form, it will use the configured query to retrieve information from the Access database.