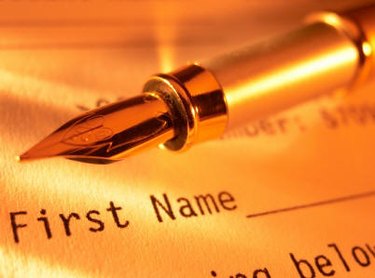 You can add interactive, fillable fields to your PDF documents, creating forms into which your users can type. Instead of having to print out the forms and fill them in by hand, visitors to your website can download them, complete them and return them to you, either by printing them out and handing them in, or by returning them via email attachment. If you already have a PDF form, the process of making them fillable takes only minutes. You need Adobe Acrobat -- not just Adobe Reader -- to accomplish this task.
Step 1
Open your PDF form in Acrobat. Click on the "Form" tool, which is the icon that looks like a document on top of a dotted-line rectangle. It is located next to the "T" button.
Step 2
Type in a name for the field, for example, "First Name." This name is for your use only, and it primarily serves an organizational purpose.
Step 3
Select the field type for the fillable field. Make sure you select an appropriate field type for the type of question that you are asking. For example, if the field is "First name," then "Text" would be an appropriate field choice. On the other hand, if the field is "Gender," "Radio buttons" might be appropriate. Experiment with the different types of form fields to see what they do in action.
Step 4
Modify the behavior and appearance of the form. For example, you can remove borders via the "Appearance" tab, restrict the number of characters that can be typed into the form via the "Options" tab, or allow users to automatically make calculations with typed-in form information via the "Calculate" tab. Click "OK" to save the changes.
Step 5
Click on "File" and "Save As" to save your form. Distribute it to your users to allow them to fill it out and print it.