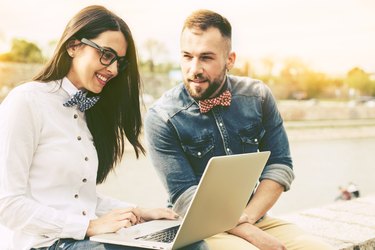 Creating your own tickets can be a cost-effective benefit to any fundraiser. They can be printed at home and can be personalized with personal pictures. A ticket can be easily manipulated on a personal computer and printed as needed without the worry of shipping costs and time. The simplest way to create a fundraiser ticket is with Word templates that can be accessed online and adjusted to fit your fund-raising needs. Follow these simple steps.
Step 1
Open Word to a blank document. In the top toolbar, find the help icon and open up Microsoft Office Online. You will be connected to the homepage for Microsoft Office, on which you will see multiple options for assistance.
Step 2
Find the templates tab listed across the top of the page, and click on the tab. This will bring you to the template page. Scroll down toward the bottom of the page, and find the "Browse Template" section. The section has a listing of categories for different templates. Find the category for tickets. You may have to click "More Categories" to move to the next page because the categories are in alphabetical order.
Step 3
Click on the word "Tickets," and this will bring you to the available ticket templates. You can scroll through the available templates to choose a color scheme or format that fits your event. Remember that text and images can be manipulated once the template is downloaded.
Step 4
Click on the ticket template of your liking, and a large image of the template will appear along with an option to download that template.
Step 5
Click "Download," and Microsoft will provide a service agreement that you must read and agree to before downloading the template. If you agree to the terms, click "Accept," and the document should begin downloading. Once the download is complete, you are able to edit that template.
Step 6
Insert the organization name, event name, address, location, time and any additional details that are important for the attendee to know, such as price or required attire.
Step 7
Insert a picture or logo by clicking on the Insert icon in the toolbar above the document. For private pictures and logos, download from the file. Once your picture is downloaded, you are ready to print the tickets for distribution.