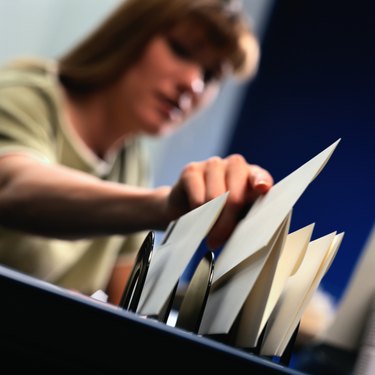 Microsoft Word 2013 includes dozens of built-in envelope templates from which you can choose to create and print custom envelopes. You can use the templates to add return and recipient addresses or even electronic postage, if you have the appropriate software installed on your computer. Knowing where to find these templates and choosing the right one for your needs is essential to successfully using this helpful feature.
Step 1
Open a new blank document or start from the document to which you want to add an envelope. Select the "Mailings" tab.
Step 2
Click "Envelopes" in the Create group to open the Envelopes and Labels dialog box. Click the "Options" button to open the Envelope Options dialog.
Step 3
Click the arrow in the Envelope Size box and choose the template size for the envelope you want to print. Click "Custom Size" and enter the envelope dimensions if there is no template for the envelope size you want.
Step 4
Click the "Font" button in the Delivery Address or Return Address section to choose a custom font, font style or font color for either or both addresses. Click "OK" when you are done.
Step 5
Add the envelope template to the document, if you wish to use it again in the future, by clicking the "Add to Document" button. This can be beneficial for form letters and other similar documents.
Step 6
Follow your printer's instructions and insert a blank envelope into the printer. Click the "Print" button when ready to print. The template disappears after printing, if you do not add the envelope to the document.