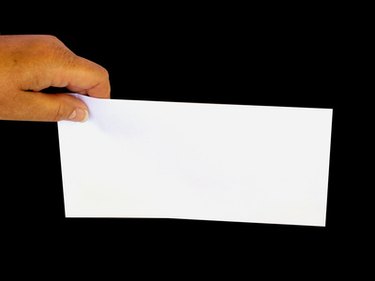 Microsoft Word is a popular program to use when printing single envelopes as well as large mailings. Word allows you to create an individual envelope for each of your recipients, and you can print customizable envelopes to suit the needs of your business. Envelopes vary in size, but Word has a built-in feature that adapts the document and printer to accommodate each envelope you wish to print. Printing one or many 6x9 envelopes is a breeze once you know how to do it.
Step 1
Launch Microsoft Word. Click "File" and select "Word Options" at the bottom of the menu. If you are using Word 2007, click the "Microsoft Office" button and select "Word Options."
Step 2
Click "Advanced" and scroll down to the "General" section.
Step 3
Type the return address into the "Mailing Address" box and click "OK." Microsoft Word will store the return address and have it available each time you create an envelope.
Step 4
Select the "Mailings" tab and click "Envelopes" to open the "Envelopes and Labels" dialog box. The return address already will be placed in the correct box.
Step 5
Click "Options" and choose "Custom Size" from the "Envelope Size" drop-down menu.
Step 6
Specify a width of "9" inches and a height of "6" inches in the applicable fields and click "OK."
Step 7
Click "Printing Options" and choose a feed method. Click "OK" to proceed.
Step 8
Enter the delivery address in the "Delivery Address" box or click the "Insert Address" button above to insert an address from your address book.
Step 9
Feed the envelope into the printer using the feed method previously chosen.
Step 10
Click "Print" to print the envelope.