If you are mailing out a letter using a double-window envelope it can be difficult to format the document on your own. However, Microsoft Word has a template specially designed for you to create and edit the labels for a manuscript or letter to be placed in a double-window envelope. This takes away the guesswork from attempting to design the label yourself.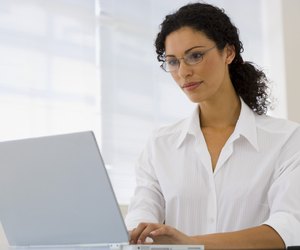 credit: Jupiterimages/Pixland/Getty Images
Step
Open Microsoft Word and wait for it to load completely on your screen. Click the "Mailings" tab on the top of the screen located next to "References" and "Review." Additional options will appear below the tab.
Step
Select "Envelopes" and a small envelopes window will load in the middle of your screen.
Step
Click the "Envelopes" tab in the window and type in the delivery address in the "Delivery Address" space. Fill in your return address in the lower space in the window.
Step
Select "Add to Document" and the proper formatting for the double-window envelope will be placed on the Word document. When you print on a standard piece of paper and fold the paper all of the information will align with the two blank windows.