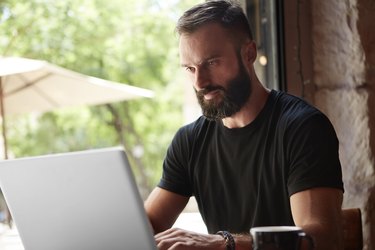 With all the templates available at your local office supply store you can make nearly any type of label at home. You can make address labels, name tags, return address labels, DVD labels, etc. The options are virtually limitless. One of the most common labels used in business and at home is the Avery 5160 label. It is a standard address label with 30 labels per page. You can make 30 of the same address label or you can incorporate a list of different addresses.
Step 1
Open a new document in Microsoft Word.
Step 2
Click on "Tools" or "Mailings", depending on the version of Word you have.
Step 3
Click on the "Envelopes and Labels" tab.
Step 4
Click on the "Label" tab.
Step 5
Select 5160 from the list of product numbers.
Step 6
Click "Details" in the "Label Options" box, if you do not see the 5160 product number in your list.
Step 7
Type in a label name for your project.
Step 8
Set the top margin at .5 inches, side margin to .19 inches, vertical pitch to 1 inch, horizontal pitch to 2.75 inches, paper size to 8.5 by 11 inches, label height at 1 inch and label width at 2.63 inches. The number across is three and the number down is 10.
Step 9
Click "OK" and then click "OK" again. The label template is know on the Word screen.
Step 10
Click in the top left box to start entering the first address.
Step 11
Enter the name at the top and hit "Enter". Key in the street address and hit "Enter". Enter the city, state and zip code.
Step 12
Hit the tab button or use your mouse to go to the next box to enter another address. Continue to enter in all of the addresses like this until all of your addresses are typed.
Step 13
Click "Print" from the menu and print out a copy of the labels on plain paper.
Step 14
Hold the printed sheet of labels behind a sheet of blank labels. Hold the two papers together toward the light. The addresses should be in line with the labels. If the addresses don't line up with the labels, you can make adjustments in the "Details" box, which is accessible from the "Label Options" box.