Address labels are the easiest and fastest way to address letters and cards. But you have to know the shortcuts! There's no need to fight with tables to get the appropriate dimensions for your mailing address labels. Instead, do a mail merge using Microsoft Excel and Word. Enter and organize the data in Microsoft Excel. Use Microsoft Word to extract that data and print your labels.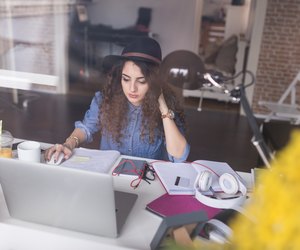 credit: Anchiy/iStock/Getty Images
Step
Open Microsoft Excel using the "Start" menu or Desktop shortcut. Label the cells in the A Row as follows, with one label in each cell:
Name, Address, City, State, Zip Code.
Step
Fill in the appropriate information for each of the address labels you would like to make starting in row B and below. Save the Excel spreadsheet to the desktop or to a place where you can easily find it. Close the document and Excel.
Step
Open a new, blank document in Microsoft Word to create the address labels. Open the "Tools" menu and select "Mail Merge Manager." Click the arrow next to "Create New" and select "Labels."
Step
Choose the brand and type of labels that you'll be using to print your address labels. Move down to where the Mail Merge Manager says "Get List." From the drop-down menu select "Open Data Source."
Step
Browse for the Excel Spreadsheet where you typed all your addresses. Click the "Open" button after selecting it. Click the "Insert menu field" drop-down menu and select each of the categories you entered in "Row A" of the spreadsheet to add them to the sample label.
Step
Format the sample label so it's in mail address format. Name should be on one line, press "Return" or "Enter" to move address to the second line. Press "Enter" again, and put city, state and zip on the final line. Be sure to add a space and comma between city and state and a space between the state and zip code.
Step
Click "OK" to return to the Mail Merge Manager window. Click "ABC" to see a preview of your address labels. Return to the previous step in the Mail Merge Manager window if you need to modify the format.
Step
Click the icon that looks like two pieces of paper and an arrow to complete the mail merge. The address labels appear in Microsoft Word and print out on the selected address label paper.