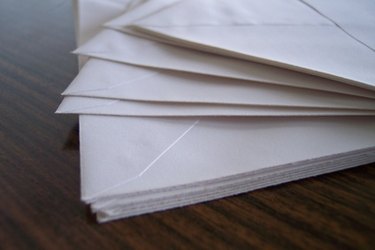 A crisply printed envelope provides a professional-looking introduction for your letter or document package. Printers are generally set up to handle standard 8 1/2- by 11-inch paper. To print a flat 9- by 12-inch envelope you will have to set up your word processing program for custom printing. Before you begin printing to this format, your printer should be on and connected to your computer, with the tray adjusted to handle the slightly wider, heavier 9-by-12 envelope.
Step 1
Open your word processing program.
Step 2
Go to the "File" menu and click "Print."
Step 3
Click the "Properties" or "Preferences" button.
Step 4
Select "Custom" under "Page Size."
Step 5
Type "9" under "Width" and "12" under "Length."
Step 6
Click "OK" on the current window and "Print" on the window behind it.