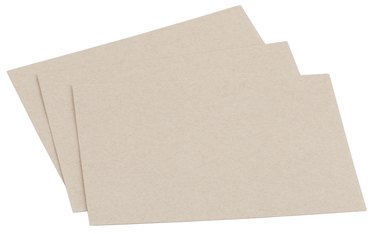 Epson printers were designed to support several different types and sizes of paper media. One paper media type you can use with the Epson printer is envelopes. If you have a large group of letters to send out, typing the addresses on your computer and printing them onto the envelopes is easier than handwriting each address. In addition, printing the envelopes looks more professional if your mail is business correspondence. Use your Epson printer to print out your envelopes.
Step 1
Load the envelopes into the printer. The printing side of the envelope faces up, the envelope should rest against the right paper guide and the envelope flap is inserted first.
Step 2
Move the thickness lever on the side of the printer to the "+" position for handling thicker paper. Not all Epson printers have a thickness lever.
Step 3
Open the document you want to print and select the "Print" command. The "Print" window will appear on the screen.
Step 4
Click "Properties" in the "Print" window.
Step 5
Enter "Envelope" in the "Media Type" drop down menu and the envelope size in the "Page Size" drop-down menu.
Step 6
Save the settings by clicking "OK" and then press "OK" in the "Print" window to start printing your envelope.