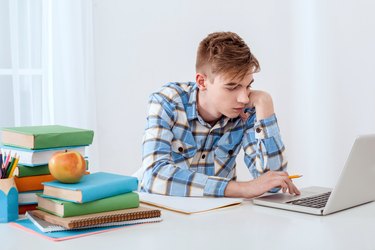 Microsoft Word users have long been aware of the benefit of typing, rather than hand-writing, letters and business forms for their readability. Transfer that clarity to the housing for those papers by printing the envelopes right along with the other materials using Microsoft Word. With Word's quick templates for envelopes, you'll have an on-screen replica ready to print out on the actual item within minutes, just stamp and send.
Step 1
Open Microsoft Word. Click the "Mailings" tab at the top of the screen. Click the "Envelopes" button on the left side of the ribbon below the tab. The "Envelopes and Labels" window opens with the "Envelopes" tab enabled.
Step 2
Click the drawing of the envelope in the bottom-right corner of the window. Scroll the "Envelope size" menu to "Size 9" and click "OK".
Step 3
Click "Add to Document" to close the "Envelopes and Labels" window and return to the Word document, now set up for the size nine envelopes.
Step 4
Click into the text box on the top-left corner of the envelope – note that the text box itself is invisible, so you may need to click around a little. Type the sender's name and address.
Step 5
Add a digital logo to the envelope by clicking the "Insert" tab, selecting the "Picture" button below the tab and browsing to the logo. Double-click the logo, then drag it into place in the top-left corner of the envelope. This step is optional.
Step 6
Click around to get to the recipient's text box in the middle bottom of the envelope. Type the recipient's name and address.
Step 7
Change the appearance of the text on the envelope, such as making it larger or a different font, using the controls in the "Font" section of the "Home" tab's ribbon.
Step 8
Turn on the printer and load in the envelopes – check your printer settings for whether the envelopes should be face up or down. Take care not to overload the printer, envelopes are much thicker than standard copy paper. Squeeze the print tray levers to surround the envelopes and keep them in place.
Step 9
Click the "File" menu and select "Print." Click up the "Copies" button for the number of envelopes to print and click the "Print" button.