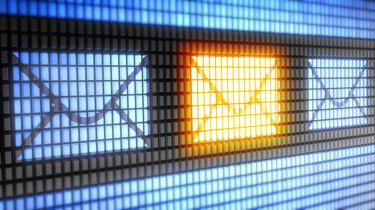 The term "mail merge" refers to a software function that enables you to send mass forwarded messages -- whether by postal or electronic mail -- to multiple recipients with individualized fields. This way, if you are sending hundreds of invitations, each invitation can be personalized to each recipient. By using any version of Microsoft Office or Word in conjunction with Outlook, you can create a mail merged email message addressed to as many recipients as you would like.
Step 1
Launch Microsoft Word from your Programs menu.
Step 2
Select the "Mailings" tab, choose "Start Mail Merge" and click the "Step by Step Mail Merge Wizard" button.
Step 3
Click "Use the current document" > "Start from a template" or "Start from existing document," depending on your circumstance. In each case, the dialog window will proceed to finalizing any of the given options. Click the "Next: Select Recipients" button to proceed to the next step.
Step 4
Click "Select from Outlook contacts" to create your CC (carbon copy) list from the contacts you have saved in Outlook. Click "Choose Contacts Folder," select the folder you wish to select contacts from and select the contacts you would like to send the document to using the check boxes. Click the "Next: Write your e-mail message" button when you have finished selecting the recipients.
Step 5
Write your email and insert mail merge fields into the appropriate sections by clicking from the mail merge menu at the top of the window. Word has a number of mail merge field options, including address blocks, greeting lines and other customizable fields.
Step 6
Click the "Electronic Mail" button when you have finished composing the email. Type the subject of the email into the corresponding text field within the "Merge to E-mail" dialog box and click "OK." Your mail merged document will automatically be sent to the list of recipients.