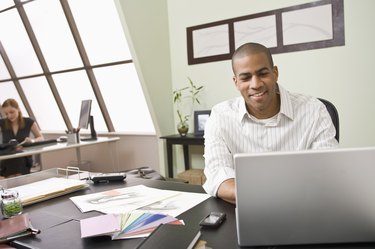 Keeping your notes organized can be quite challenging when working with different communication and productivity tools. While Gmail doesn't provide any native support for importing notes from other programs, you can send your notes to Gmail via your email client. Your notes in Microsoft Outlook can be attached to an email message as an EML file format, which can be viewed in most Web browsers and text editors. It's also possible to send your Outlook notes to your Gmail account as text in the body of an email.
Select Your Notes in Outlook
Step 1
Open Microsoft Outlook and click "Notes" in the bottom navigation pane. Alternatively, press "Ctrl-5" to open the Notes pane.
Step 2
Click on the name of the notes folder containing the notes you wish to copy in the left folder pane. For example, click the folder associated with your email account.
Step 3
Select all of the notes you wish to export. For example, you can use your mouse to drag a selection box to highlight the notes, press "Ctrl" when clicking to select multiple notes or press "Ctrl-A" to select all of the notes.
Send Notes to Gmail as Text
Step 1
Select your notes in Outlook.
Step 2
Click to drag the selected notes over the "Mail" navigation pane, and then release your mouse button. A new message window will open. Your notes will appear as text in body of the email, separated by dashed horizontal line breaks followed by the modified date for each note.
Step 3
Type your Gmail email address into the "To…" field, add a subject and then click the "Send" button to send your notes to your Gmail account.
Forward Notes to Gmail as Attachment
Step 1
Select the notes you wish to forward in Outlook.
Step 2
Click the "Forward" button in the Actions group of the Home ribbon, or press "Ctrl-F" to open a new message with your notes included as individual attachments.
Step 3
Enter your Gmail email address into the field next to "To…" Click the "Send" button to send your email with your Outlook notes attached.
Tip
It is recommended that you enter a subject when sending your notes to Gmail to help you identify your Outlook notes in your Inbox. For example, enter "Outlook Notes" into the Subject field.
Send notes individually if you'd like to easily locate them in your Gmail account as separate messages.
Warning
Information in this article applies to Microsoft Outlook 2013. Steps will vary with different versions.