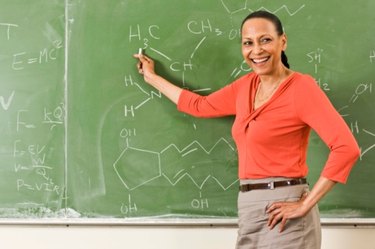 ICal is a personal organization and planning application that is bundled with Apple's OS X operating system. Its capabilities range from simple calendar functions, to detailed appointment and time management features, including the ability to create simple custom planning tools for a variety of contexts using calendar groups. Calendar groups can be used to create detailed lesson plans for individual classes or groups of classes.
Step 1
Open iCal. On the left is a gray section where your different calendars are listed. Control-click or right-click if you have a two-button mouse and select "New Group" from the pop-up menu. A new calendar check box with a disclosure triangle to its left appears. Name the calendar group after the class you are planning -- for example, "English 101" -- and press "Enter."
Step 2
Create four new calendars by control- or right-clicking in the grey area and selecting "New Calendar" four times. Give each calendar a name that reflects the activities that take place within a given period for the class in question. For example, the first could be "Attendance and Review," the second could be "Introduction of New Material," the third could be "Group Activity" and so on. Customize the names to suit your class. Drag and drop all four new calendars into the calendar group you created earlier if they did not appear there automatically.
Step 3
Go to the day and time of the class by clicking on the day in question in "Month" view; then click the "Day" button in the top center of the screen to display the hour-by-hour view of the day of the class. In this view, iCal displays time in half-hour increments. To display increments so that a 15-minute-long event is wide enough to be seen and manipulated easily once created, open iCal's "Preferences" window and select "6" from the drop-down menu labeled "Show," causing iCal to display only six hours at a time,
Step 4
Click on the first calendar you created to select it and then double-click on the day calendar. A new event is created. By default, new events are one hour long; to shorten them, hover the mouse cursor over the bottom edge of the colored event box and click-drag upwards to decrease the event's duration. The shortest duration an individual event can have in the day view is 15 minutes, but if you need shorter events, you can layer them.
Step 5
Click on the remaining three calendars to select them and create events for each in turn. Decrease these to 15 minutes and place them in order chronologically. For example, "Attendance and Review" begins at 8:00; "Introduction of New Material" begins at 8:15 and so on.
Step 6
Double-click the first event. A pop-up appears in which you can fill in details describing the event. This is where the detailed lesson planning takes place. Fill in a location for the class, attach files such as PDFs or images for easy reference and add alarms and pop-up reminders if needed. Click on the section labeled "note," where you can enter any notes, thoughts or organizational material you might need for the section of the class in question. There is no limit to the amount of text that can be entered here.
Step 7
Add details and notes for each section of the class. Append any files or other material, including URLs, to each section as needed. When finished, choose "Print" from iCal's "File" menu. A print dialogue appears that displays how the day in question appears on the page. Select whatever display options suit your taste. Note that all of your notes for each 15-minute section of the class are organized and included on the right-hand side of the page. Click "OK" and print your lesson plan. Alternatively, you can save it in PDF format by clicking the "PDF" button and selecting "Save as PDF."