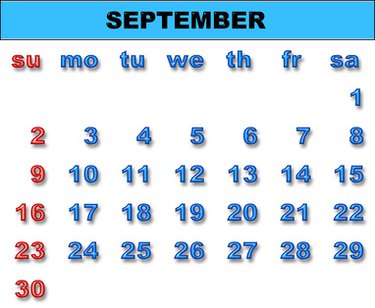 The Outlook Calendar is a powerful tool for managing your personal schedule. And you can easily share your calendar with other Outlook users. But sharing your calendar with people who don't use Outlook can be a problem. The iCalendar (iCal) standard is most commonly used for exchanging calendar information outside of Outlook.
Importing your Outlook Calendar information into the iCal format simply requires knowing the proper steps, since you don't use Outlook's standard import/export menu to do the task.
Step 1
Start Outlook if it is not already running and click the "Calendar" button in the Navigation Pane. This takes you to the Calendar view.
Step 2
Select the calendar you wish to work with if you are using more than one calendar.
Step 3
Click "File," then "Save As." This opens a modified Save As dialog box.
Step 4
Navigate to the location where you want to save the iCal version of the Calendar.
Step 5
Enter the name for the iCal version of the Calendar in the File name field.
Step 6
Ensure that iCalendar format is selected in the "Save as" type list.
Step 7
Click the "More Options" button. In the dialog box that appears, select the date range that the iCal version of the calendar will include, as well as the amount of detail that will appear in the iCal version.
Step 8
Click the "Show" button to display them if the Advanced options are not visible. Set the "Include details of items marked private" and the "Include attachments within calendar items" options appropriately for the way the iCal version of the Calendar will be used.
Step 9
Click "OK" to return to the Save As dialog box.
Step 10
Click "Save" to save the iCal version of the Calendar.
Warning
Calendars you import into iCal format do not remain synched with your Outlook Calendar. If you create an iCal file, then make a change in Outlook, that change is not automatically transferred to the iCal file. You would need to create a new iCal file to get the Outlook change into it.