Microsoft Outlook 2013 streamlines the process of coordinating schedules by allowing you to share your calendar with your associates. If the person who you want to collaborate with has not yet shared her calendar with you, you can send a view request from within Outlook prompting her to do so. If she is not part of the same Exchange server as you are, you can still send a request, but you'll have to do so manually. Information in this article applies to Microsoft Outlook 2013. Procedures may vary slightly or significantly with other versions or products.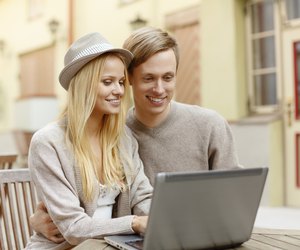 credit: dolgachov/iStock/Getty Images
Step
Open Outlook 2013 and sign in to your email account if required. Select the "Calendar" option from the bottom of the page to display your Outlook calendar and related options.
Step
Select the "Home" tab if it is not already open and then select "Open Calendar" from the Manage Calendars group. Select the "Open Shared Calendar" option that is shown on the drop-down list that opens.
Step
Type the name of the person whose calendar you want to view in the input box and then click "OK." Alternatively, click the "Name" button and select the name of the person from the Global Address Book. Click "Go" to locate the person and then click "OK."
Step
Click "Yes" when prompted for permission to send a view request to the person whose calendar you want to view. Type any additional notes, such as the reason for wanting to view the calendar, in the body of the email and then click "Send." When the recipient accepts or denies your request, you'll automatically receive an email informing you.