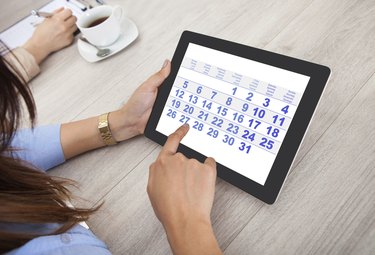 To synchronize your Yahoo Calendar to your Google Calendar, you first need to export your Yahoo Calendar events to your computer's hard drive then import that calendar file into your Google Calendar. The majority of events will synchronize properly, though you must manually edit any events that recur indefinitely after importing them into Google Calendar.
Calendar Synchronization
At Yahoo Calendar, your calendars display in the left panel. To export a calendar, click the arrow icon that appears when you move your cursor over that calendar. Next click the "Export" option and then the "Export" button to save the calendar file to your computer. Next, in Google Calendar, click the arrow icon beside "Other Calendars" in the left pane and select "Import calendar." Select the calendar file you exported from Yahoo and click "Open." Finally, select the Google calendar you want to synchronize these events with and click "Import."
Calendar Details
Any indefinitely recurring events in your Yahoo calendar will be saved as individual, non-recurring events, when you import them into your Google calendar. You must manually update these in Google Calendar to be recurring events. Also, to combine several Yahoo calendars into a single Google calendar, export each Yahoo calendar to separate files and then import each file into the same Google calendar.