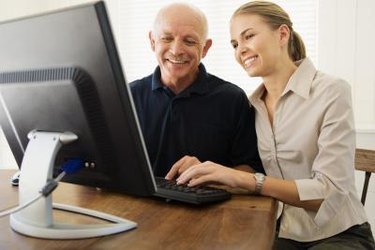 Microsoft Outlook is a very popular email, contact and calendar management software program, and Yahoo! is a leading search engine and email service provider. Yahoo! also offers its own calendar, and it may be easier to access for some users when they are away from their own computer because they can do so at any computer with Internet access. For seamless use of both calendars, you can import and export data between the two.
Step 1
Open your Yahoo! calendar and click on the "Options" link. Navigate to the "Export to Outlook" section within the "Import and Export" heading.
Step 2
Click on the "Export Now" button. Name the file for your Yahoo! calendar, and take note of the location you specified. You will need it later.
Step 3
Import your Yahoo! calendar into Outlook via its .csv file. Launch the Outlook software, and select the "File" command. From the drop-down menu that appears,click on "Import and Export."
Step 4
Select "Import From Another Program or File," and then click on "Next." Click on the option labeled "Comma Separated Values (Windows)" and then click "Next" again.
Step 5
Select the file that you specified in Step 2, click on "Do Not Import Duplicate Items," and then click "Next." Select "Calendar," click "Next," and you are finished. Your Yahoo! and Outlook calendars now share the same data.