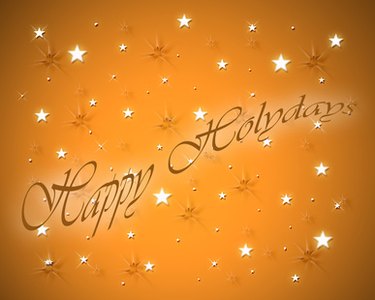 Selling greeting e-cards online allows you to get creative and own a business. You can set up a website or user-generated storefront such as CafePress to get instant exposure. To start, you will need a few tools and a business plan.
Step 1
Plan your business. Consider how you will design your e-cards and how you will sell them. Adobe Photoshop is a common software program used to create graphics, or you can always use a free alternative to Photoshop. Another option is e-card software; since e-card software comes with a ton of features, a good e-card program is best if you choose to design a website. And if you do decide to design a website, either you can hire a freelancer to create the site or use website design software.
You can bypass setting up a website and payment-processing software by using CafePress. CafePress is used by people to create items and products.
Step 2
Choose your specialty. There are greeting cards for every season and event. You could focus on birthday e-cards or holiday e-cards. Within each category there are genres. You may want to specialize in horror themes, fairies or maybe nature. If you have a good sense of humor, you could make your cards funny. For the deep thinker, philosophical e-cards could work best for you. In the beginning it's best to choose a specialty to start slow and you can always expand your themes once you become comfortable in creating and selling.
Another advantage for specializing is creating a signature or trademark—every successful business has one. A trademark will help you stand out from the crowd.
Step 3
Brainstorm design ideas. With a specialty in mind you can begin to create sketches by hand or with your graphics program. Begin working with colors, fonts and layouts. You can also experiment with sound and flash. If you find yourself short on ideas, check e-card tutorials to gain inspiration. Even if you have several ideas, an e-card tutorial will give you greater flexibility in creating as you learn new tricks and techniques. Tutorials for your graphics program are also useful for learning features which will expand your creative range.