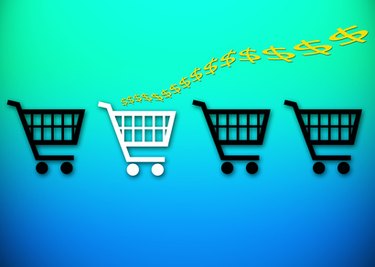 Perhaps you have a large assortment of collectible items, or maybe you are the creative type with a lot of high quality arts and crafts. Either way, you may be able to sell your products online. While there are several existing websites on which to sell your items, another option is to go into business for yourself and create your own website. Even if you have no website design experience, you can register for free with a web host and easily set up your own website to sell your products.
Step 1
Register for a free account with a web host like Yola, Weebly or WebStarts, all of which are ideal for home businesses. Enter a username and password for your account, along with an email address that you will need to use to verify your account.
Step 2
Type in a name and URL for your website, which do not need to be the same. The name will appear in your header, such as "Kristy's Klothes for Kids," which the URL will be the address for your website and will be part of a subdomain (i.e. "kidsklothes.yola.com").
Step 3
Click on the category drop-down box and choose a category for your website, which should be based on the type of products you are selling. The category you choose will help potential customers find your website on search engines, so choose carefully.
Step 4
Click on the template thumbnails to preview them. Select a template that reflects the nature of the products you are selling, but that is also easy to navigate. You can rearrange the text and image fields later, so focus on choosing a design you like.
Step 5
Click "Pages" to add and/or delete pages from your website. Pages are the best way to organize your products and information. Include an "About Me/Us" page so potential customers can read about you and your business and see how qualified you are to sell these products. Add a "Contact" page with a form or email address for customers to contact you. Create a separate page for each category of products so customers can easily find what they need.
Step 6
Drag and drop the different fields or boxes on your template into the order you want them on each page. Each field will be labeled with a specific purpose, such as "text," "photos," "HTML" or various widgets like calenders. Delete anything you feel is unnecessary.
Step 7
Upload as many photos and images of your products as possible on each page. Customers who shop online are generally more prone to purchasing something they can see, particularly if it is used or homemade. Add an image with item description and price for each product you are selling.
Step 8
Click "Preview" and proofread and click through your website thoroughly. Click "Publish" when you are ready to begin selling your products.