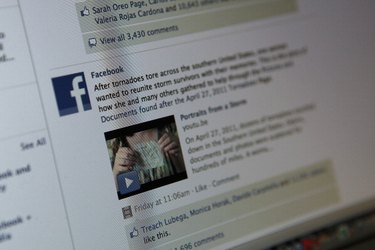 If you have second thoughts about a Facebook post, you can delete the post and remove any traces of it. You can remove posts to a friend's wall, your wall or in other places throughout the site. When the post is deleted, it is no longer viewable by you or any other Facebook users. Posts are immediately removed from your recent activity stream on your profile when you opt for deletion.
Step 1
Access the Facebook website and log in to your online account.
Step 2
Click "Profile" to view posts by you such as status updates and comments made on other Facebook users' pages.
Step 3
Review your posts and choose the link to the post you want to delete.
Step 4
Hover over your post with the cursor and click the arrow that appears in the upper right corner of the post.
Step 5
Click "Delete" to confirm that you want to delete the post.