When you're on a shared computer, there are times when it's helpful to remove viewed items from eBay. If you're using eBay to purchase a gift for your spouse or a family member, for example, you can keep others from stumbling onto your plans by deleting viewed items from the eBay site and your eBay app.
Deleting From the eBay Site
On your eBay home page, find your Recently Viewed items box. Click Clear to remove all the items. Even though your recent searches don't show the exact items you've viewed, they may give clues about the items or your plans. To delete searches, find the Recent Searches box and click Clear. To prevent the search box from revealing recent searches, click the search box and select Hide eBay Suggestions.
Warning
Deleting recently viewed items from the eBay site within a browser doesn't clear your viewing history from connected apps or your browser.
Tip
The browser history shows pages visited. Clear the page history from your browser as an added safeguard.
Deleting From the eBay App
To delete recent items from the Windows 8 eBay app, click the Menu icon and then Settings from the menu bar.
Tip
You can also right-click anywhere in the app to open the menu bar.
Alternatively, move the cursor to the upper-right corner of the screen to access the Windows Ribbon and then click Settings and App Settings.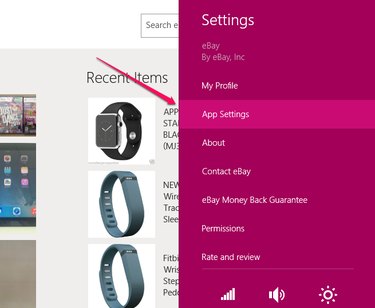 From App Settings, select Clear Recent Activity.
Warning
Clearing the recent activity in the app only applies to items viewed in the app, even when you're signed in to your account. If you also viewed the items from a browser, clear the items from eBay within the browser.