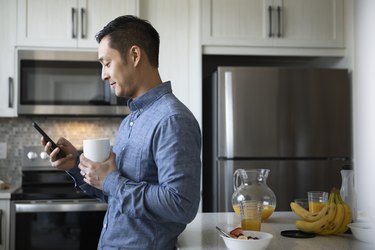 Tracfone, despite its popularity, isn't a cellular carrier as such. It's a type of service provider called a Mobile Network Virtual Operator (MVNO). Instead of building its own cellular networks, which can take years and cost many billions of dollars, MVNOs are resellers. They lease capacity on another company's existing network at wholesale pricing and then sell service plans and phones to customers of their own.
Knowing which network your phone uses can sometimes be important. Verizon, AT&T, Sprint and T-Mobile all have excellent coverage in most of the country, but there are areas where one or the other is better. To make things even more frustrating, you may live in an area where a carrier's service is good, but not in the place where you are located.
Navigating the Tracfone Network
Many MVNOs contract with just one of the major networks. In Tracfone's case, it leases bandwidth from all four of them. Your experience with a phone you bought from the company or one you transferred to Tracfone can vary depending on which underlying network carries your phone number.
If you already have a phone with Tracfone, learning which network it's on can help you set realistic expectations for coverage, which is vital when you set out on a road trip. If you're in an area where one network is significantly better, you can consciously choose a phone that works on that network.
Send Yourself a Message
If you already own the phone, one way to discover which carrier it uses is to text a message to your email address. The cellular carrier routes the message to your inbox, and you can view the message to find out which carrier it was. If you're lucky, it will show up in the "from" address in your message.

In some cases, your email might include a "sig" at the bottom with the carrier's distinctive logo. If you don't see that, you can check the headers on your email to see which servers handled it. In Gmail, for example, you'd click the three-dot More menu at the top right corner of the message and choose See original. In the desktop version of Outlook, you select File and then Properties and click the Internet headers field at the bottom of the window.
The resulting screen contains a whole bunch of gibberish, but somewhere near the top, you'll see the servers called out by name. That name always includes the network's name, in a form that's something along the lines of "mail.txt.carriername.com." That tells you your Tracfone carrier.
Use an Online Lookup Tool
With almost anything cellular-related that you might want to look up online, it's a safe bet that other people want the same thing. A quick search for "phone carrier lookup by number" or something similar, turns up several online services you can use.
Most look up the carrier from your phone number, which is the simplest. The lookup tells you which carrier's network your phone is on, even if you got the phone from Tracfone or another MVNO. Some lookup tools let you search by the number on your SIM card instead or by the IMEI — an electric serial number for a phone that doesn't have a SIM card.
'Dance With Who Brought You'
If you're looking for a phone that works on a specific network, the simplest option is to buy one that's meant to be activated on your network of choice. A Verizon phone still uses Verizon's network under Tracfone, for example, and a Sprint phone still uses Sprint's network.
You can also use the Check Compatibility link on Tracfone's site to see if a given phone works on the network you prefer. When the page asks which network the phone is compatible with, choose your preferred network and then follow the prompts to enter your phone's IMEI. The Tracfone IMEI check tells you whether your phone works on that network in your area.

If the phone is compatible, you're good to go. If it's incompatible, you need to try a different phone.