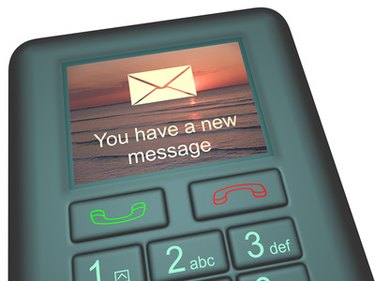 At times, you may receive spam or unwanted text messages to your cell phone. With the Verizon text messaging control panel, you have the option of blocking messages from certain numbers, or disabling text messaging entirely. This can also be reversed later on depending on your choice.
Step 1
Check the source and type of message. You need to know whether the message is a spam text sent through the Internet or from someone you know. This will help you make an informed decision on the method to choose when disabling text messaging. For spam messages, you can block them completely while messages from people you may know you can disable temporarily.
Step 2
Sign up for a Verizon online account. This allows you to access various online features. You will be required to register for your number to be included in the Verizon online database. Give the required information and create your password. If you have an account already, just log in.
Step 3
Click on the message tab. Under Preferences, choose the type of message you want to disable. If it is spam, click the spam control button. For other messages, click the "My Usage" tab on the message page to get to "Usage Controls" at the top of the page.
Step 4
Block the numbers. Verizon can block up to five numbers. Click the call and messaging button. Enter the number(s) you want blocked on the space provided. If you have a monthly plan with Verizon, you will be required to add $4.99 monthly access to your account. This not only allows you to block the texts but also limit the number of texts you receive in a month.
Step 5
Click the "Apply" button. This allows your information to be processed by Verizon. Once through, you will be able to view a list of the numbers that have been blocked and the expiry date, which you should note. You can renew the service after the expiry date.
Step 6
To completely turn off the text messaging feature, call Verizon customer service on *611 or 1-800-922-0204. Verizon will disable any messaging service in your cell phone. You can also sign in to your Verizon account and click on "My Services," then the "Add/Remove" feature tab. From the options, select "Messages" and click "Remove." Click "Next" to submit the changes.